Diamond cutting discs of the highest quality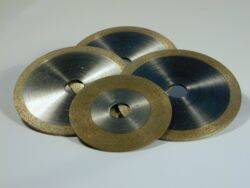 With our diamond cutting discs you can efficiently process all types of rock, glass, ceramics and many other materials.
Our diamond cutting discs can be supplied with all mounting holes. The layer can be made segmented or closed. The specification is tailored to the respective material to be processed. There are many different bonds and electroplated coatings in all grain sizes to choose from.
We have been a developer, manufacturer and supplier of high quality diamond tools for over 45 years. Ultrasound-compatible diamond tools and special tools are just as much a part of our product range as conventional diamond tools.
You can process the following materials with our diamond cutting discs:
All types of rock
Ceramics
Quartz glass
Float glass
Glasses for the optical area
Boron carbides
Carbon
Dental ceramic
Silicon
Hard metals
and much more
Our diamond and CBN tool delivery program includes:
Diamond cutting discs
Conventional diamond drills
Countersinks
Drill-Countersink combinations
Grinding wheels
Hollow drills for glass
Diamond core bits
Ultrasonic tools
Micro drills with internal cooling
Diamond milling cutters
and much more
Our diamond tools, among others, are used in the following industries:
| | |
| --- | --- |
| | Dental and medical technology |
| | Automotive |
| | Aerospace |
| | Glass and ceramics industries |
| | watch industry |
Diamond cutting discs available sizes
Our diamond cutting discs are available in sizes from Ø 50 - Ø 800mm
Depending on the diameter, sintered diamond cutting discs are available from a layer width of 0.4mm.
Other diameters and layer widths are available on request.